Just got this in an email from Trulia:
"Your contributions to Trulia Voices have earned you the status of Trulia Voices VIP Level 3.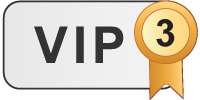 In recognition of this achievement, your VIP status will be shown on your profile and across our site. You will also enjoy more exposure throughout Trulia as well as higher ranking within our Find a Pro directory.
We hope that you will download this VIP certificate and display it proudly. You've definitely earned it!
Your VIP status is set to expire in 30 days, but don't worry – keeping that status is easy. Just be sure to post 70 contributions to Trulia in 30 days – that's just a little more than two posts per day!
Thank you for being a superstar within our community and keep up the great work!"